i swear i'm not a 15 year old boy, but i still can't stop laughing at WE RENT TOOLS.

pictured outside the cut: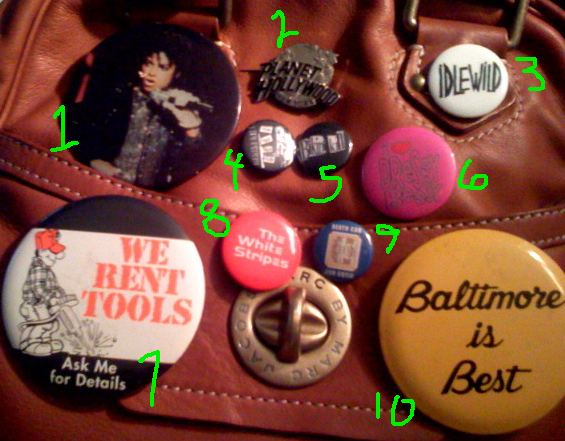 1. OOOOOOOOOLD michael jackson $8
how old? here's me wearing it when it was new! i still have all of those, actually, so if anybody is interested i'd probably part w/a few more, but not my faves :) click to enlarge!



2. planet hollywood new york city $3
this is a real 3D silver metal pin, not a badge/button like the others
3. idlewild $3
oh those wee scots and their rockunfuckinroll... LOVE. i have two of these.
4 and 5. bikini kill $3 each, both for $5
in b&w oldschool copy and paste zine style, i'll take better pics if you want one/both
6. dressy bessy! $4
cute outlined logo and a red heart, almost as cute as miss tammy herself, better pic upon request!
7. home depot: WE RENT TOOLS $3
heh heh heh... for the beavis and butthead in all of us!
8. white stripes, $3
9. death cab for cutie $4
telephone wire design, i'll take a detail pic if you want it :)
10. baltimore is best $3

shipping included, of course.

and everything below is still $3 each SHIPPED
use this picture as a guide to what's still available (click to enlarge!)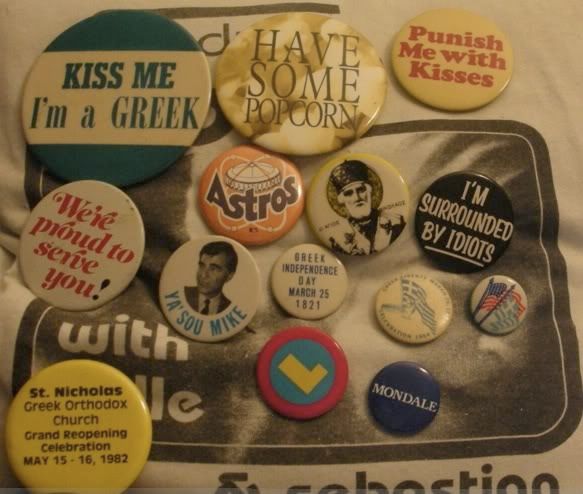 REQUEST FROM ME ABOUT BUTTONS: because i love bags, and pins on bags, or pins on anything, or anything pinned on bags, when you wear the pin, PLEASE TAKE A QUICK PHOTO OF YOU WITH IT SO I CAN SEE! and email it, or leave it in feedback... this seems silly but i have a bunch so far, like from all over the WORLD now, and i'm keeping a gallery, and i'd love to add you to it, and i can't wait to show it to everyone.





vintage mint green double-breasted coat w/buckle details, $25
the great green color of this coat isn't photographing well at all, it's a lot darker in person! measurements upon request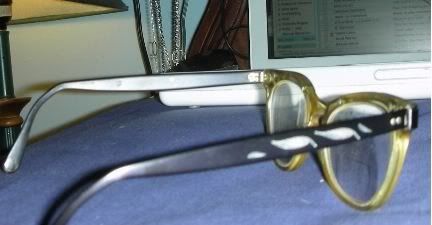 antique prescription eyeglasses, $20 shipped
gorrrrgeous vintage cat-eye glasses with pearly-inlaid details, prescription bifocal lenses show some wear (mostly light scratches on the lenses themselves, the frames still look perfect) but they could easily be removed or replaced.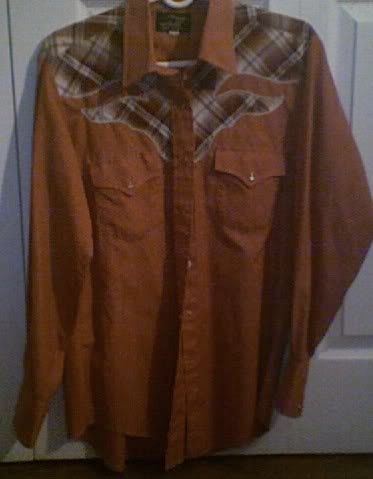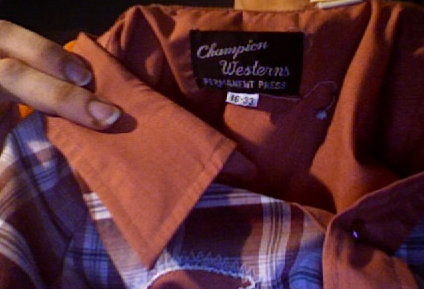 "champion western" shirt with plaid designs embroidered on both shoulders, two breast pockets, and pearl snaps. the tag is strangely sized... i usueally wear M and it fits me, ask for measurements! $10 shipped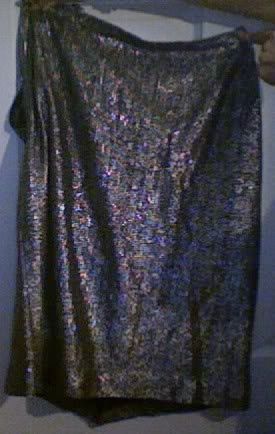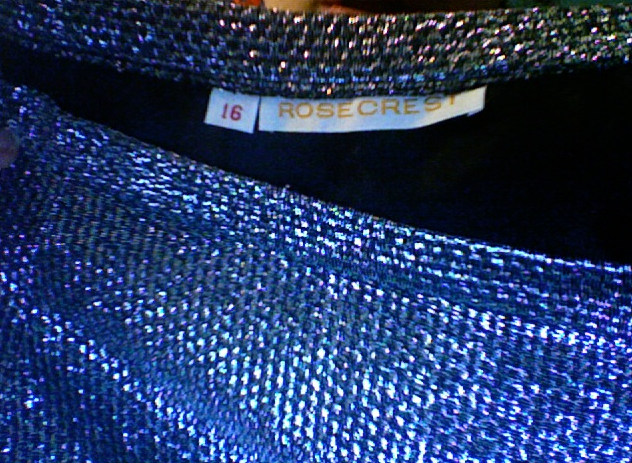 AMAZING silver-thread skirt, side zipper and button, knee-ish length but can be altered because it's lined. (again, i don't understand that sizing at all... i'll measure) i'd like to think this spent some time in studio 54... it looks like it did! $18 shipped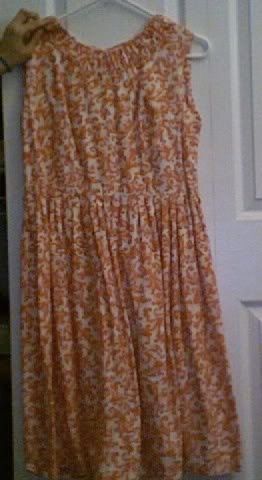 vintage orange print summer dress, zips up the back, no size listed, ask for measurements! $15 shipped



i can personally vouch for the awesomeness of anything hand-crocheted by really old greek ladies, and here's a perfect example! $7 shipped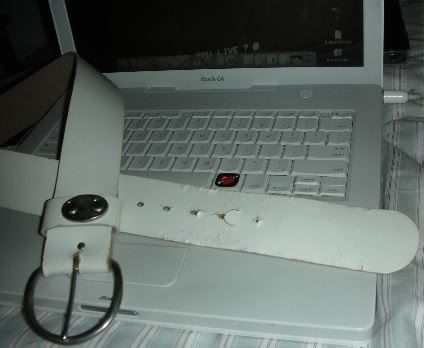 vwhite belt, my mom wore this in HIGH SCHOOL. some wear around the holes (pictured) but it looks pretty good for being an ancient relic, $9 shipped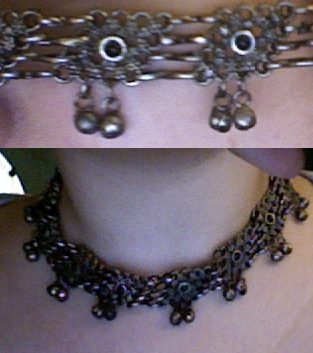 this gorgeous choker has multiple links between intricately designed beaded pieces, 17" long, hook closure you can adjust to wear as a tight choker or slightly looser, $14 shipped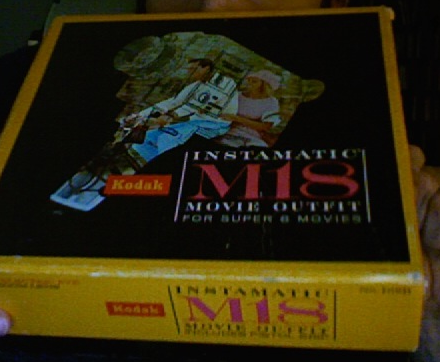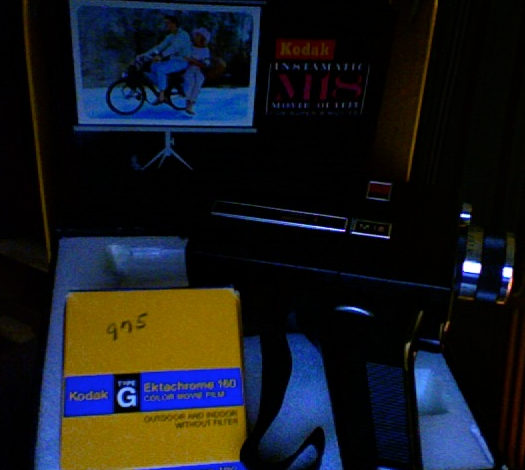 kodak instamatic super 8 camera, i don't have any of the film, but i have an empty film box so you know what kind it takes, $18 & shipping depends on where you are